Doctor Sarah Davis
Native American Silver Jewelry & Art.
With NativeSilverJewelry.com, it is all about Native American art. From jewelry over wool rugs, vases, tools, masks, silverware to paintings. There is no Native American art we are not picking up. This side was created to be a research source for everyone being interested in the Native American culture. Our Native Knowledge is the ultimate source for collectors, teachers or students.
You and us, we are probably as fascinated by the colorful life of the Native American people. You may think about bells pealing from Spanish missions, dusty cowboy boots and of course Indians weaving colorful rugs. Maybe you also think about your month burning from a green jalapeno or plump loaves baked in a stone oven. Everyone has a association but what we all have in common is this very hard to describe passion for our delighting Native American Culture and History.
Zuni.Hopi.Navajo.
---
Jewelry has been worn in the Southwest since prehistoric times. Styles changed over the centuries and Native American Jewelry Makers used different materials and metals throughout the centuries. While many centuries bones, shells, stones and items supplied by mother nature have been used for jewelry, Native American metalsmiths started to use iron, brass, and silver in the 19th century. Surprisingly late, they started using silver for jewelry. Prior to 1850, the Navajo and the Pueblo people satisfied their demand for silver jewelry not by crafting those items as the needed silversmithing skills haven't been developed yet but rather through trade or warfare. Preferably, they traded with Spanish settlers or Mexican plateros. Eventually, silver was also acquired from other Plains Indians who used to trade with the French or the English settlers.
American coins like the Morgan Silver Dollar have been worked into jewelry prior to 1890; thereafter defacing US silver coins was against the law why Mexican Silver Pesos replaced the US silver coins as the most important source for silver needed to craft jewelry. By 1930 though, the export of Pesos coins was prohibited.
More: about Native American Silversmithing History
Navajo Kilim, Arizona
Beautiful Southwestern woven blanket of Navajo Indians.
Navajo chief's blankets are most collectible and highest valuable. No other Navajo weavings is more recognized or south after collectors than a chief's blanket. Navajo chief's blankets have been collected since centuries and not only by other Native American tribes before the United States even existed, but also by well-known collectors like William Hearst.
Native American Silver Jewelry
Exceptional Anthony Skeets Turquoise Ring
Rainbow Color Cuff by Navajo Artist Alice Lister
Navajo Artist La Rose Beads Necklace Set
Native Artists
Ambrose Roanhorse was a very important and truly influential Navajo metalsmith. He obtained fame for hand wrought, traditional Navajo silver jewelry.
Ambrose Roanhorse
Mark Chee was a Navajo silversmith, jewelry maker, and designer born 1914. He was recognized for crafting heavy silver items with turquoise.
Mark Chee
Raymond Yazzie was born into a family of New Mexico Navajo silversmiths. Both, his mom and his dad, used to be successful jewelry designer.

Raymond Yazzie
Joe Paul can be described as a legendary, extremely respected, and famous Navajo silversmith that was born in new Mexico in the late 1970s.

Joe Paul
Fred Thomposn is a contemporary Navajo silversmith focusing on traditional designs. He is known for using highest quality gemstones.
Fred Thompson
Kenneth Begay was a Navajo artist and described as the father of modern Navajo design. His work identifies by bold and clean desigsn.
Kenneth Begay
Silver Jewelry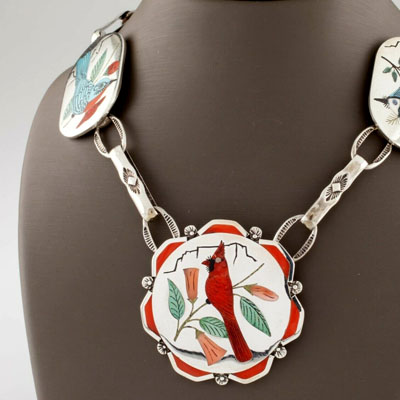 Jewelry
---
Native American Jewelry – no other combination of words is being associated more with the Southwestern image of the good, old times. Words like turquoise, coral, concha, blossom or silver is triggering our brain to immediately think about the Indian culture and its heritage. Indian jewelry is timeless – elegant and casual at the same time. It can be worn dressed sporty but also very elegant for evening occasions. You can combine a turquoise bangle with jeans but also with a suit. Indian jewelry is a statement and a confession to belong to those folks admiring the fascination culture of the Native American people. It is more than just jewelry. It's an attitude towards the life you are living.
Native American Jewelry doesn't necessarily have to be expensive. There is something for every budget available. You can buy fairly inexpensive silver rings for less than a hundred dollars.
Silverware & Decorative Items
---
Native American Artwork is not limited to jewelry. Woven blankets, decorative silver items, spoons, pottery, headdresses, music instruments, hatbands, picture frames, masks, and many other decorative items are most sought after collectors. Some people are even equipping their houses only with Native American artwork.